After scanning 1 million Chinese phrases last year, visual translator app Waygo adds support for Japanese
|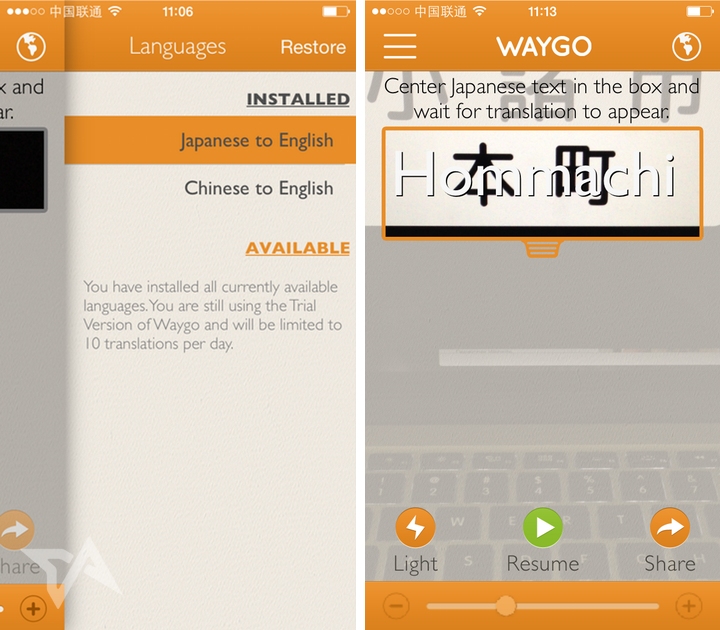 Waygo, the visual translator app that impressed us back in 2012, has undergone a major update so that it supports scanning and converting Japanese text.
When Waygo app was first created, it focused on translating menus printed in Chinese – just point your phone's camera at a dish's name, and Waygo would give you the meaning in English. It even manages to unscramble idiomatic phrases. It later expanded its repertoire to cover signs.
The inclusion of Japanese this week is the biggest update for the startup app so far.
(See: Baidu's image-recognition software isn't perfect, but it's super smart and will make you laugh)
A new pair of eyes
Ryan Rogowski, the CEO of Waygo, tells Tech in Asia that the app's users translated more than one million Chinese phrases last year. An average of 3,100 phrases per day are being scanned and processed – that's even before launching Japanese support. The startup declined to reveal active user numbers.
The Waygo team graduated out of 500 Startups last year. Rogowski explains that the accelerator program was the catalyst for a lot of changes:
Since being in 500 Startups, we've added two full-time and two part-time team members. We have done a lot of work to build a solid foundation for the company and technology and are excited for the year ahead.

500 Startups was a huge help in getting the word out about our product and connecting us to the international startup community. With their help, we were able to attract investors from China, Singapore, and Japan to help in distributing Waygo. The product has gone through redesign, feature updates, and vast algorithm improvements and we are excited for our first major language release since Chinese, with many more to come.
The core crew now consists of five full-timers scattered across the US, Taiwan, and mainland China. Rogowski says that the remote team helps the startup support marketing efforts and connect Waygo with the right people across Asia.
Waygo is free for iOS, but free users are limited to 10 translations per day. An in-app purchase called the 'tourist package' gives unlimited access for one week for US$1.99, or there's an offer for lifetime unlimited translations in both Chinese and Japanese for US$6.99. That lower rate is available until April 1.
The post After scanning 1 million Chinese phrases last year, visual translator app Waygo adds support for Japanese appeared first on Tech in Asia.
Source: After scanning 1 million Chinese phrases last year, visual translator app Waygo adds support for Japanese