Give yourself a new face with this crazy app from Baidu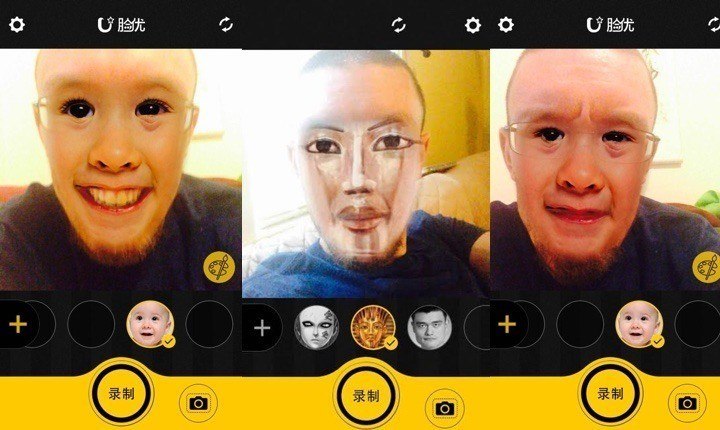 Have you ever wanted a different face? Well, there's no time like the present. Here to satiate that urge is a new Chinese app called Face It, which identifies your facial structure and then maps an image of a different face onto yours.
As you can see in the terrifying nightmare-fuel at the top of this post, the app is much more than just a simple Photoshop job – it's not pasting a picture of another face over yours. It is actually taking your face in near real-time (on my iPhone 5 it's a bit laggy) and then mapping another face image to yours, and adjusting it based on your movements. So in the image above, for example, I'm using the same "source" baby face for the images on the right and the left. The difference is that one screenshot was taken while I was smiling, and another while I was frowning (sort of).
The middle one is what my face would look like with Tutankhamun's mask, in case you were wondering.
You can take photos or videos of yourself with the app, and of course you can share all of your horrifying creations on WeChat, Sina Weibo, and more. If you'd rather photograph your friends, you can do that too, as the app allows you to select either the front- or rear-facing camera.
Of course, this sort of thing is only fun if you've got the right kinds of faces to plaster over your own, and thankfully you've got some wiggle room there. The app comes with a lot of celebrity faces and stock images built-in, but you can also select any photo from your own photo library with a face in it. I tested this by melding an image of my daughter sucking on a pacifier with my own face, and while the results were too horrifying to share here, I can attest that the app did a very good job of getting the dimensions and placement right.
This app comes to us from the folks at Baidu's Institute of Deep Learning. Normally they're working on the kind of serious tasks the word "institute" suggests: algorithmic learning, natural language processing, artificial intelligence, etc. But facial recognition is part of their research too, and apparently they decided to take their very advanced system (it looks at 72 different facial markers to map the "source" face onto yours) and put it into this crazy app. Awesome.
The app is only available in Chinese on iOS for now. An English version is coming, and there's a good chance an Android version is also somewhere down the road.
This post Give yourself a new face with this crazy app from Baidu appeared first on Tech in Asia.
Source:: Give yourself a new face with this crazy app from Baidu