Hyperlocal, hyperfast: this startup is helping Alibaba in the on-demand economy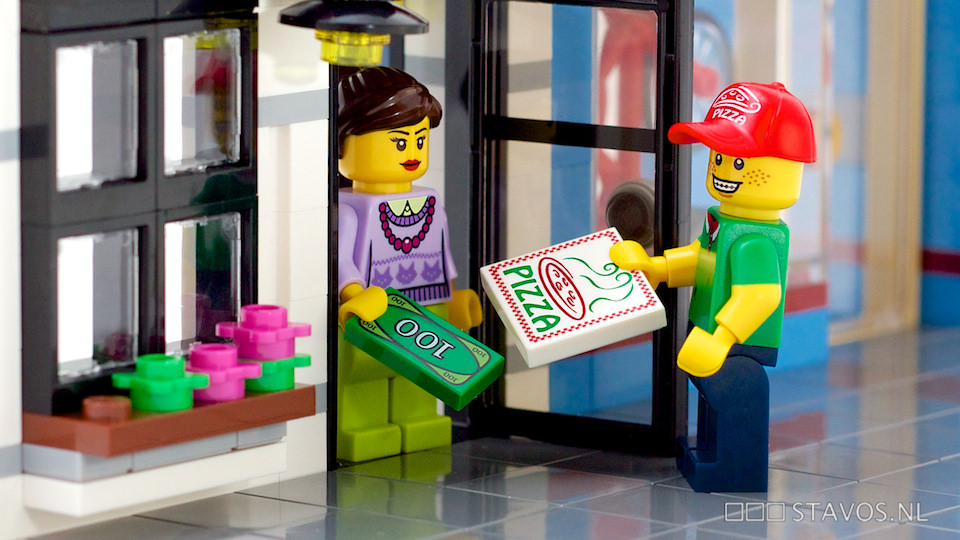 Local, on-demand web services are booming in China right now – as indicated by last month's US$630 million funding for the nation's biggest food delivery startup, Ele.me.
Today, a rival delivery startup called SHBJ revealed that it has secured an undisclosed series C round of funding from ecommerce titan Alibaba.
This news comes less than three months after Alibaba threw US$1 billion at web-connected local services to bolster its ecommerce offerings. Alibaba set up a joint venture called Koubei to create a marketplace for these O2O services – everything from food delivery to home manicures or housekeepers. A few weeks after that move, Alibaba put the new marketplace in its Alipay mobile wallet app in a bid to gain traction among the app's 400 million annual active users. The SHBJ investment is the first funding designed for the Koubei joint venture, made in the name of the Alibaba spin-off Ant Financial, which runs the Alipay service.
Hyperlocal, hyperspeed
Xu Weihao co-founded SHBJ in 2010 and serves as the CEO of the Beijing-based startup. He says the delivery service now has 2,000 employees – mostly riders who deliver the food – and over 30,000 daily orders across 10 Chinese cities.
The delivery team is split between full-time and part-time staff. The full-time crew is directly employed by SHBJ, while the part-timers fill in the gaps during peak hours, Weihao explains. That's quite different to the Uber model that many on-demand startups employ – including arch-rival Ele.me, which leads the China market for food ordering. "The market we are competing in is driven by user experience, so outsourcing delivery cannot properly guarantee delivery service quality, so we are more inclined towards direct employment of our delivery team to improve oversight, employee compliance, and maintain quality standards," Weihao tells Tech in Asia.
The plan is to expand to 30 cities by the end of the year. But Weihao doesn't want to stop at hot meals.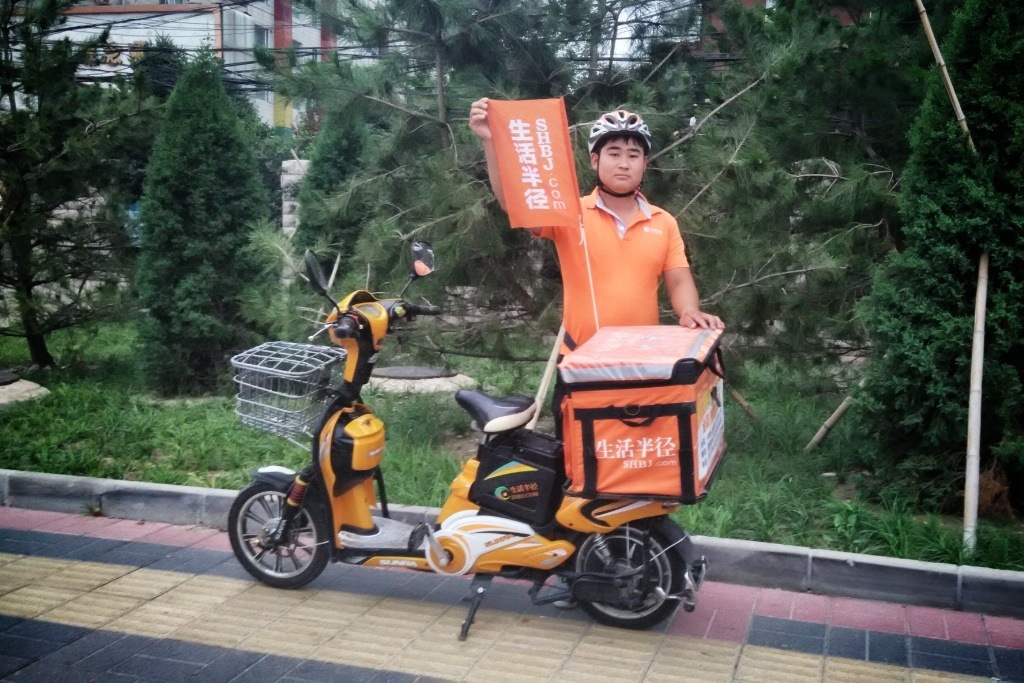 A SHBJ deliveryman with his electric scooter.
"From the first day we opened doors, we knew that to be successful, we would have to do more than just deliver meals. That's why we are planning to expand to include groceries, convenience store items, fruit, vegetables, fresh flowers and other products in our offerings," he says.
"Food delivery was just an entry point into the business model and the easiest way for us to get started. The reasoning behind this is that for food delivery, it has the highest volume, and is the most stringent in terms of delivery time. We start with the most demanding service and gradually expand to others that complement our core business and roll out from there to create a community lifestyle delivery platform."
He goes on: "I know companies like Grubhub and Doordash take a different approach to logistics, but for the China market, the big question our industry is facing is whether to directly employ a delivery team or outsource it. We think that direct employment of a delivery team is the best way to guarantee service quality and positive user experience. Of course, outsourcing has its benefits, but outsourcing also has many problems."
Weihao cites food safety as one of those potential problems. If there's an issue with the food a restaurant has served up, he reckons a directly employed biker is more likely to care about the order and do his or her best to fix it.
Alibaba boost
The startup makes money by securing deals from restaurants, meaning consumers pay the same price for home delivery that they would if they went out to eat – aside from a delivery fee of RMB 5 (US$0.80). So if Burger King sells a multi-person RMB 100 (US$15.70) set menu to SHBJ for RMB 85 (US$13.35), and then the startup charges the hungry customer RMB 100 plus the small delivery fee. It covers a three-kilometer radius around a user's location.
That three-kilometer area is important to Weihao – not just to ensure the food is hot, but to minimize costs.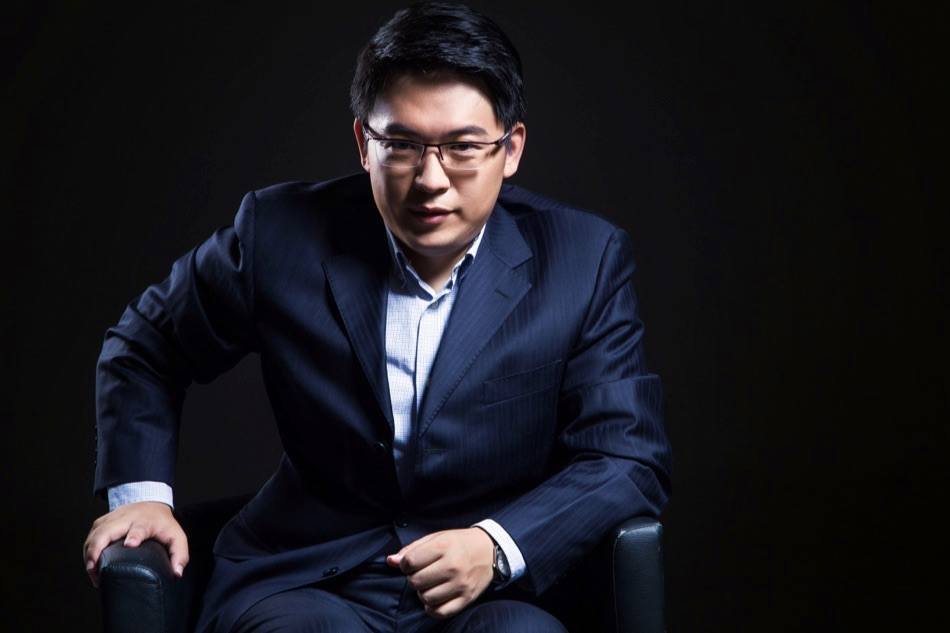 SHBJ CEO and co-founder Xu Weihao is based in Beijing.
The Alibaba deal means SHBJ will get takeout orders directed to it from users of Alibaba's Koubei marketplace, which could mean a big bump in demand. SHBJ will also be able to tap into Alipay as an online payment method.
Online payments are important to fast-paced hyperlocal services – and Weihao already knows that because epayments derailed his previous startup.
In early 2009, Weihao and a group of friends started a mobile-only shopping store, but that was before the smartphone market really boomed and before online payments on phones really took off. That created chaos. "What ended up happening was that for many impulse buyers, they would receive their order and end up not paying, resulting in many bad orders," he explains. "We kept at this model for over half a year and we eventually realized that the payment issue would be too tough to crack ourselves, so in the end we gave up on the company."
SHBJ is his second startup.
New wave
Weihao calls local web services like food delivery the second wave of China's online shopping industry.
"The first wave was platforms that could eliminate the space between people and products. The earliest ecommerce websites provided product information to help buyers and sellers connect to buy and sell items," he explains. "Online, it was about transmitting information through a uniform, regulated platform; offline, it was about warehousing goods and building up logistics infrastructure so that people could buy and sell the things they wanted with ease."
"After resolving the issue of space between people and products, timing becomes the next issue. This is the second wave of ecommerce development in China. With the emergence of mobile Internet, users are not only able to quickly find and purchase services and goods, but are also able to receive them in a very timely manner. With this, brick and mortar stores also act as warehouses, so goods can reach people at a much faster speed," he adds.
You could say that the SHBJ investment along with the recent on-demand marketplace is Alibaba's first two moves to ensure that the company isn't left behind by this new and very hyperlocal form of ecommerce.
The SHBJ founder sees the next wave of ecommerce fusing on-demand, O2O, and local businesses even further. "We see more of society embracing ecommerce, enabling communities to be better connected and more transparent. As businesses in different sectors adopt ecommerce, it will further help businesses create awareness and attract customers, and give customers a more open and transparent marketplace to buy products and services. Ecommerce will be a fundamental factor for business success as customers turn to it more and more to meet their daily needs. This is where we believe China's ecommerce sector is headed and it's pretty exciting," Weihao states.
Before the Alibaba backing, SHBJ raised US$1.1 million from Gobi Ventures for series A, followed by US$8 million for series B from undisclosed investors. Aside from Ele.me, SHBJ is up against other hyperlocal food options in China such as Tencent-backed Line, Baidu Takeout, JD-backed Daojia, and the fantastically-named Call A Chicken.
This post Hyperlocal, hyperfast: this startup is helping Alibaba in the on-demand economy appeared first on Tech in Asia.
Source:: Hyperlocal, hyperfast: this startup is helping Alibaba in the on-demand economy