Jakarta's HappyFresh gets $12M more in the bag to boost grocery delivery in Asia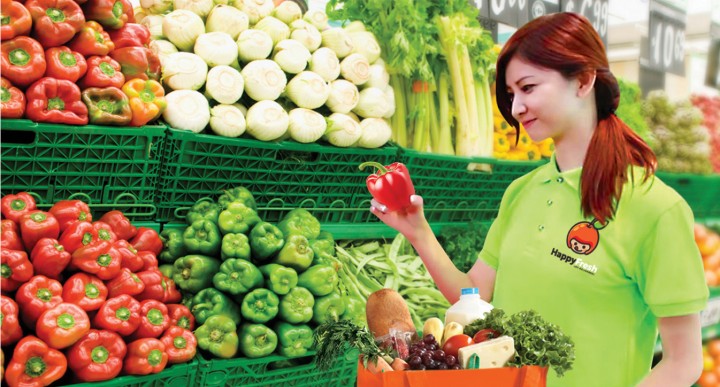 Indonesia-based grocery delivery app HappyFresh announced today it raised US$12 million in a series A funding round led by Vertex Ventures, the venture arm of Temasek Holdings and Sinar Mas Digital Ventures (SMDV), the venture arm of Indonesia's Sinar Mas Group. Other participating investors include Asia Venture Group, Beenext, Ardent Capital, 500 Startups, and Cherry Ventures.
After launching its next-hour online grocery delivery service in March in Indonesia and Malaysia, HappyFresh decided to expand to Thailand and Taiwan.
"We are very happy to partner with Vertex […] and SMDV […] We are looking forward to benefitting from their strong networks to further expand our footprint across Southeast Asia," says HappyFresh CEO and co-founder Markus Bihler. "We will continue to invest in enhancing our product and service […] building HappyFresh into the region's leading food tech group."
HappyFresh is an early mover in the food marketplace industry in Southeast Asia. Established in October 2014, the firm has partnered with well-known supermarkets, including Ranch Market and Farmer's Market. The company employs personal shoppers who choose products in-store. HappyFresh claims its on-demand logistics network allows for next-hour delivery. The company is headquartered in Jakarta with operations in Malaysia, Indonesia, Thailand, and Taiwan. The founding team includes Markus Bihler, Benjamin Koellmann, and Fajar Budiprasetyo.
See: Grocery app HappyFresh comes to Thailand, aims for expansion in Asia
Koellmann tells Tech in Asia a Manila launch is slated for October, while HappyFresh is also exploring other Indonesian cities for expansion, like Surabaya. Koellmann and his partners have also created HappyRecipe, a spinoff of the startup's core offering. HappyRecipe lets users read blog posts to get inspired about cooking. It also offers up various ready-made recipes, which users can follow to purchase specific ingredients and prepare dishes at home.
"We have very strong and experienced local managing directors who run each market with a local team, and they are supported by our headquarters here in Indonesia," says Koellmann. "Data science and customer insights are at the core of our DNA."
HappyFresh faces many competitors in Asia including Go-Jek in Indonesia with its Go-Food service, as well as names like Indonesian meal-kit delivery service Black Garlic, as well as Tesco Lotus and Tops Shop Online in Thailand. Singapore-based RedMart and Indonesia's Sukamart can also be seen as a regional contenders.
"This is a business model which clearly benefits the supermarkets and the consumers. Its capital efficient model allows it to scale easily and very quickly," says Joo Hock Chua, managing director of Vertex, who will join the board of HappyFresh. "Markus and his team are experienced entrepreneurs and they have demonstrated strong execution capability. Vertex is happy to lead this round of investment. We will bring our experience and global network to help HappyFresh."
This post Jakarta's HappyFresh gets $12M more in the bag to boost grocery delivery in Asia appeared first on Tech in Asia.
Source:: Jakarta's HappyFresh gets $12M more in the bag to boost grocery delivery in Asia