LV or not LV? WeChat has a big problem with fake brand accounts
|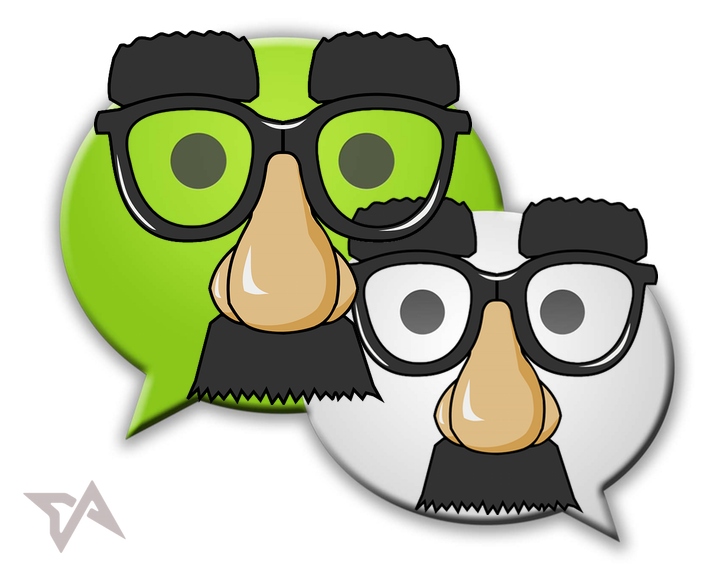 WeChat isn't just used by friends for messaging – in China it's also used by more than two million bloggers, celebrities, media outlets, small companies, and major brands to reach out to people. Trouble is, WeChat has a huge problem with fake brand accounts.
While the best way for a WeChat user to add a brand's official account is via a QR code – which are plastered over nearly every major store in China – there are still many cases in which a user might search within the app for a certain brand account. That's when the user will find it's a disaster zone.
A search for Starbucks in Chinese reveals 36 fake Starbucks accounts within WeChat. Since these are 'official' accounts that are different from what normal people use, these fakesters have, bafflingly, been approved by Tencent (HKG:0700), the maker of WeChat. At least in this case a yellow check mark shows the actual, 'verified' "Starbucks China" WeChat account:
But it's not always so clear cut. Let's now search within WeChat for LV, which is the common abbreviation for luxury fashion brand Louis Vuitton in China. That shows dozens of results – in fact, we stopped counting at 100. Confusingly, many of these are verified with the yellow symbol. But, in this case, those apparently verified and authenticated accounts are not the true LV account and are in fact related to online sellers of LV bags and other (possibly counterfeit) luxury items. So that means the impostors have not only been approved by Tencent but have also been issued with a verified badge. That makes WeChat verification meaningless and exposes users of the social app to potential fraud from these scurrilous accounts.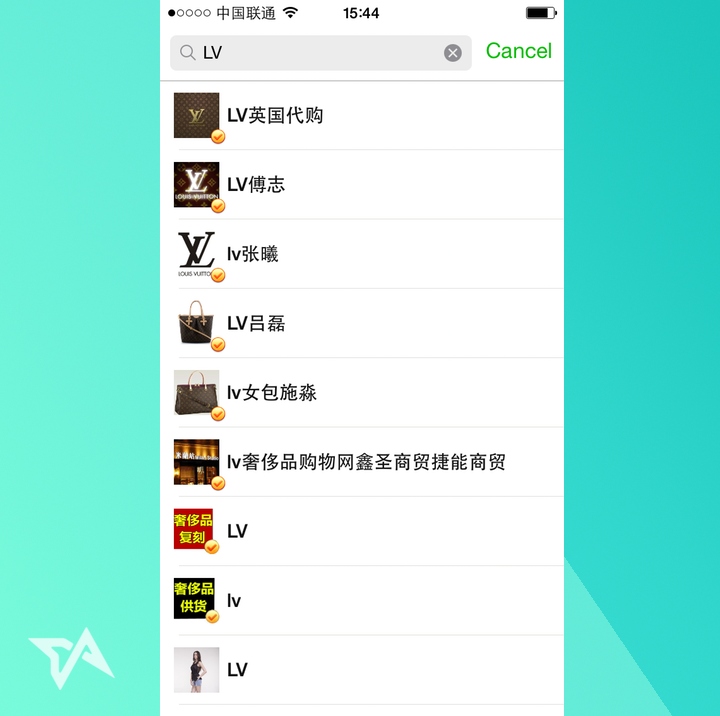 Wait… it gets even weirder. As noticed yesterday by Andrew Schorr, CEO of a startup called Grata writing on the company blog about reporting trademark violations in WeChat, some of the fake LV accounts have put the yellow 'verified' badge inside their thumbnail picture, which makes it look like they're verified when they're not. It's a cunning trompe l'oeil that's barely discernible without a magnifying glass. Here's a closer look:
So where is the real LV brand account? It's somewhere in that jumble, but it's impossible to pick out due to WeChat's awful search function and the flood of fakers. LV's actual WeChat official account is called 'louisvuittonofficial.' "That's difficult to spell, especially for non-native English speakers," Schorr tells Tech in Asia. That's why QR codes have worked so well for WeChat – but it highlights how much Tencent has neglected to tidy up the rest of its WeChat official accounts, especially for users who try to search for brands by name within the app.
This doesn't just affect overseas brands. A search, for example, for Chinese electronics maker Haier reveals dozens of accounts, some of which are related to individual Haier products and corporate branches but many which are run by Haier resellers – and some of which seem to be spammers. Nearly all of them have the yellow verified badge.
We reached out to Tencent yesterday to ask about this WeChat brand fakery, but we've yet to receive a response.
(Hat-tip to Grata's blog)
Source: LV or not LV? WeChat has a big problem with fake brand accounts