Meet YogaTrail, a TripAdvisor for yoga lovers
|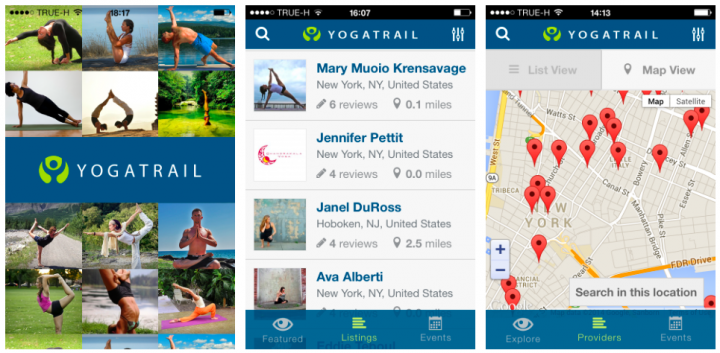 Although there's no exact number for how many people practice yoga around the world, we know for a fact that in recent years yoga has become an alternative to many sports. Yoga originated in Asia and has become widely popular in other parts of the world, especially in the US. Chiang Mai, Thailand-based startup YogaTrail spotted this opportunity and wants to seize it.
Similar to the US-based Om Finder, YogaTrail is a community-based yoga directory and marketplace. It helps yoga enthusiasts find venues, teachers, and events anywhere in the world. The platform also helps yoga practitioners locate independent yoga teachers and venues, not just those with brands. There's also a review function for yoga practitioners to review the teachers they have practiced with.
YogaTrail offers yoga professionals a way to market themselves. While it's completely free for any yoga teacher to be included in the database, there's an option to upgrade to "premium", which gives people more visibility and some other features to help them find more students and customers.
Launched back in June 2013, YogaTrail's website has over 50,000 yoga listings with 20,000 members. The company aims to have 200,000 yoga professionals listed and one million users by the end of the year. Although the app is made in Thailand, the company's main market is in the US. YogaTrail disclosed that about 45 percent of the listings in the app come from the US.
But why not just use Google search for yoga venues and teachers? YogaTrail's Alex Klein explained:
Using Google to find yoga is a terrible idea, and the fact that that is how yoga practitioners are finding their yoga today is the main reason why we built YogaTrail and the YogaTrail app. On Google, you'll find places that have websites and are good at playing the SEO game. So smaller independant yoga teachers and studios won't show up (many don't even have websites). And, what you find on Google is the website for a place, which is not a source of unbiased information.
YogaTrail is available on Android and iOS.
The post Meet YogaTrail, a TripAdvisor for yoga lovers appeared first on Tech in Asia.