Top 10 Most Funded Kickstarters from China – Infographic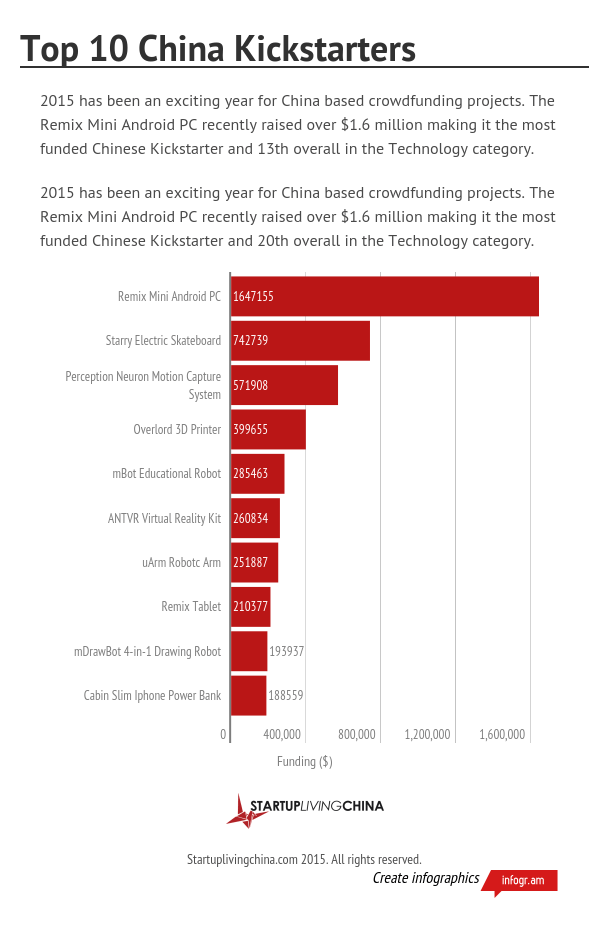 Jide Tech's Remix Mini $20 portable Android PC made Kickstarter history today by being the first Chinese project to raise over 1 million dollars on the crowdfunding site. With only a modest $50,000 goal, the Mini went on to raise 1.6 million dollars, making it also the 20th most funded Kickstarter in the Technology category.
This year has seen several successful Chinese Kickstarter campaigns raise significant amounts of funding. Here are the top 10 most funded Chinese Kickstarters to date:
Innovation – China's next export?
China's future depends on innovation to boost slowing growth. As the world's 2nd largest economy makes it's painful transition from manufacturing and exports towards consumption, services, and technology, we can expect to see Chinese startups enter the global stage. With successes like Jide Tech and other startups like OnePlus, Xiaomi, and Huawei making headways globally, China seems to be off to a good start. But will it be enough?
Infographic courtesy of StartupLivingChina.
This post Top 10 Most Funded Kickstarters from China – Infographic appeared first on Tech in Asia.
Source:: Top 10 Most Funded Kickstarters from China – Infographic