WeChat sees resurgent growth, now has 355 million active users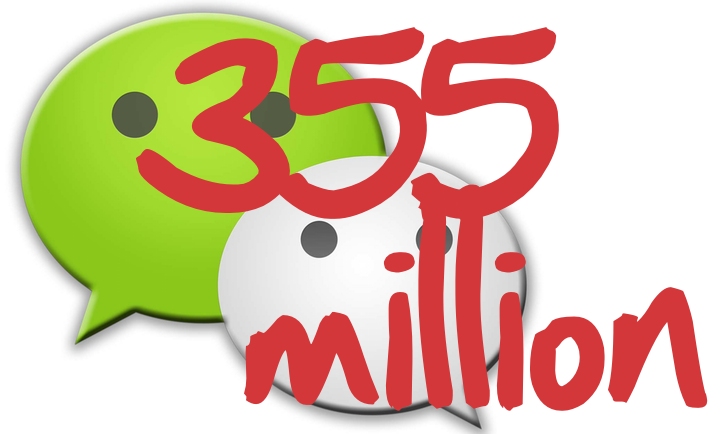 Chinese web titan Tencent (HKG:0700) has just put out its Q4 2013 earnings report. Amidst the financial figures is the one number everyone wants to see relating to WeChat – how many active users it has. According to the company, WeChat has now grown to 355 million monthly active users (MAUs). That's up from 271.9 million monthly users in Q3.
Tencent first started revealing WeChat MAUs at the beginning of 2013. Putting all the available figures in one chart, we see that the app's growth accelerated from Q3 to Q4, having previously slowed down from Q2 to Q3. Here is the messaging app's progress in the past year: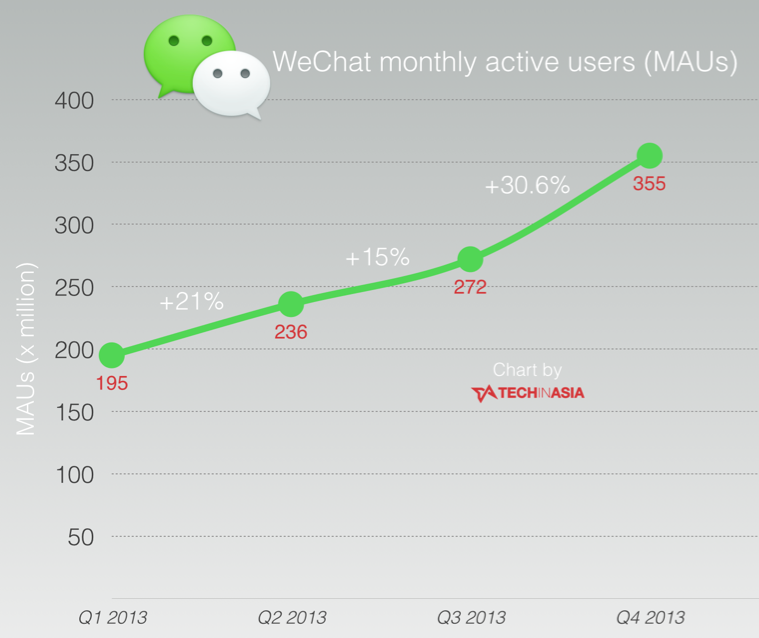 (See: Boosted by WeChat, China's mobile gaming market worth $590 million in Q3)
Everything still to play for
Since WeChat last revealed its MAUs, a lot has changed in the social messaging industry. WhatsApp is now owned by Facebook, and Viber was snapped up by Rakuten. WhatsApp has 465 million monthly active users (update: corrected that from 450 million), versus 100 million active on Viber.
It's still hard to observe which messaging apps dominate in each part of the world. It's complicated by a lack of per-country stats for each service, as well as by the fact that many apps – such as Japan-based Line – refuse to divulge active user figures and instead only say how many are registered.
Making the scene even murkier, most WeChat users are based in China. The last time Tencent spoke of its WeChat users outside of China (last August), the company revealed that it had 100 million registered. It's not clear if non-China users are driving WeChat's resurgent growth. Footballer Lionel Messi was recruited as the WeChat spokesman last year to help push the app across Europe, South America, and other football-mad countries with lots of prospective users, such as Indonesia.
It's not all plain sailing for WeChat in its home nation. Tencent's hottest app is currently facing a major threat to its mobile commerce ambitions in China as the nation reportedly draws up regulations that will set strict limits on online payments.
Our report on Tencent's financials and other data is here.
(Update: It's worth noting that Tencent has changed its math for calculating the combined MAUs of WeChat inside and outside of China. That's why the Q4 report says six percent growth from Q3 to Q4, while our chart shows 30 percent. The change in calculation is explained by Tencent in the following: "In view of the evolution of Weixin [app's name in Chinese] and WeChat from communications services to multi-functional platforms, we have revised the definition of combined MAU of Weixin and WeChat since the fourth quarter of 2013 to denote the total number of user accounts that sent out one or more messages via Weixin/WeChat or conducted other proactive operations on Weixin/WeChat, such as logging into Game Center or updating Moments, at least once during the last calendar month prior to the relevant date. Comparative figures have been restated to conform to the current period's presentation.")
The post WeChat sees resurgent growth, now has 355 million active users appeared first on Tech in Asia.